Welcome to our Gallery of Original Works of Art, Fine Art Prints,
and Objets. We'll be expanding this section in the weeks to follow.






Greta Warren-Hill has recently opened her online Gallery at http://WarrenHillArt.com at which all of her currently Available work and latest Sold pieces are listed.

May we invite you explore the new site and learn about this amazing artist?

Warren Hill Online Gallery



Other artists:

Nature Morte: Bust and Mandolin
Signed by both Pablo Picasso & Jacques Villon Aquatint 1927 #102 of 200 Rare




One of the rarest of limited editions. Still Life with Bust and Mandolin. So unique. So extraordinary: Two artists joined in a single collaborative effort. How often does one find two noted artists signed to the same work of art? Once this has been sold, you will likely never find this work again on any auction site for man-years. It is an heirloom work typically passed through an estate rather than placed at auction.


While most know the name Picasso, Jacques Villon may not be as familiar. The name of his brother, Marcel Duchamp, though, likely will be. In his own right, Villon was a very accomplished artist and contributed much to the movement. This piece comes from the palette of Picasso: Villon translated the work to this beautiful, brilliant Aquatint.

Like Picasso, Villon was fundamental to the Cubist movement and created, what I think, are some very interesting images. This piece is a superior example of the joined efforts of two of the most remarkable artists of the 20th Century. Collaborating, Picasso and Villon combined their talents to produce this series of Aquatints, limited to 200. This is 106, which makes it no better than #2 or #199

This is an excellent Investment Grade piece of rare art and a superb example of Cubism to proudly display in your home. Don't miss this opportunity. You could pay more than $100,000 for this Nature Morte next year.

No Best Offers will be entertained.

Please note that the original 1920s frame glass is not – NOT – non-glare. If you wish to change that following your purchase, you may but I never wanted to disturb the 90 year-old backing and hanging support. Therefore, Image #1 is of a screen grab and not of the actual under glass print.

Shipping will be by FedEx, insured, following an extensive crating, and at our expense.

Here's a little boilerplate on this image:

Technique: Original Hand Signed and Numbered Aquatint on Arches vellum paper. Paper Size: 50.3 x 66 cm / 19.8 x 26 in. Image Size: 37 x 50 cm / 14.6 x 19.7 in.

Additional Information: The work is hand signed in pencil by the artist "Picasso" at the lower left margin. It is also hand numbered in pencil "16/200" at the lower left margin next to the signature. (Seller note: This piece is 102 of 200.) Furthermore, it is inscribed (under matting) in the plate "Gravé par Jacques Villon, 1927" in the upper right edge, and "Bernheim-Jeune, Éditions, Paris" in the lower left edge. Finally, it is hand signed "Jacques Villon" in the lower right margin.

This work was printed in 1927 in a limited edition of 200 signed and numbered impressions. It was published by Bernheim-Jeune, Éditeurs, Paris.

$46,000.00 USD, Worldwide Shipping Included

Original Oils and Other Medium by Other Artists

No. 1

Untitled Nature Morte, by Nanno DeGroot
Late 1940s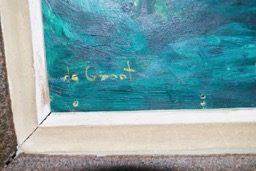 A Very Interesting Provenance:
Nanno De Groot, Earliest works (1940s): Untitled Nature Morte sold 1950 at the Salon d'Hiver Paris


One of De Groot's earliest works, created some time in the late 1940s prior to his move to New York, and was sold from the Salon d'Hiver in Paris in 1950 to Lilly Brenner, then staying at l'Hotel des Nations at 29, Rue des Ecoles. Ms. Brenner was a resident of San Francisco, so there is some irony in her travels to purchase a painting by someone who was, still then, a resident of San Francisco at the time of its painting.

At the time this image was completed, De Groot was a Cartoonist for my old favorite and now long-dead, San Francisco Chronicle. This, his chosen career following a stint in the War effort, as I recall, an officer in the USN.

The backing with all references mentioned is still used in the frame of this lovely oil, but was in more than deplorable shape, and we spent some time cleaning and re-painting the frame in a finish that would provide a pleasing visual appearance over its many flaws.

Some time back we made a substantial effort to document this painting's provenance and established with the buyer's daughter that it had been secured by her mother on a Paris trip at that time. She had no other information, and Lilly (her mother) had passed. As an interesting aside, Lilly's testimony as a Holocaust Survivor had been gathered and made part of the Holocaust databank in the SF Bay Area.

De Groot was born in the Netherlands and the image of the Dutch fellow - the portrait hanging above the afternoon repast - is a clever reminder of his roots. Another image, Le Figaro, is of a newspaper I, like many other students of French, struggled to read off and on for three years finally deciding there was no advantage to developing a fluency in the language. (I wish I wouldn't have decided that.)

De Groot is, I think, still survived by his widow who operates a gallery in Provincetown. He became, as many of the school were, a hard-living artist of vibrancy and innovation. (Maybe he had a drink or two with Eugene O'Neill...Maybe even with Rabo Karabekian, since he was of the same era as featured in Vonnegut's Bluebeard.)

We rescued this De Groot years ago from an auction. Look closely at the images of the painting itself and you'll see a few nail holes and a hard - not deep - scratch over the Dutchman. A matting would take care of the few small holes, but the scratch will require a restorer's touch.

Yet, this remains a beautiful painting and very much unlike any of De Groot's later work. Please ask any questions prior to bidding. Shipping around the 48 states is included. For anywhere else, please inquire.

Value has been set based on typical sales of De Groot, increased for earliest example, and reduced by restoration estimate.

$4,500.00 USD

No. 2

Winter Camp, by Griselda Tello
1983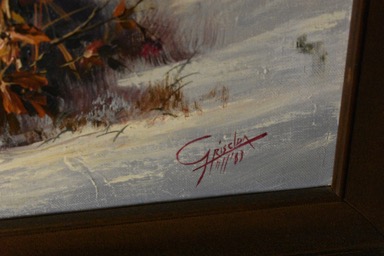 Griselda Tello is a California artist of incredible capability, bringing life and vibrancy to her work. This piece is my favorite of hers lending her inherent detailed eye and sophisticated brush and knife to the Winter Camp of Plains Indians. It is beautifully framed and measures overall 28X34 inches. Frame on reverse contains a dedication from the artist to its first owner. This is unlike any of her later work and captures the true spirit of her capabilities, and for which she has been variously and vigorously recognized.

$4,500.00 (USD)

We accept PayPal, checks, and most other forms of payment. Please contact us at 928.303.6199 in Arizona USA.



www.TheIndependentDaily.com

Editor@TheIndependentDaily.com
Published in Arizona, USA